We have just released SongShift 5 to the App Store. This is one of our biggest updates to this date, filed with new features and improvements to improve the SongShift experience.
Business Model Changes
To set SongShift up for success, we're introducing the first pricing change since SongShift launched. We want to be able to work on SongShift continually. Using subscriptions will allow us to keep working independently without worrying about other monetization avenues. For users who do not like subscriptions, a Lifetime option is also available.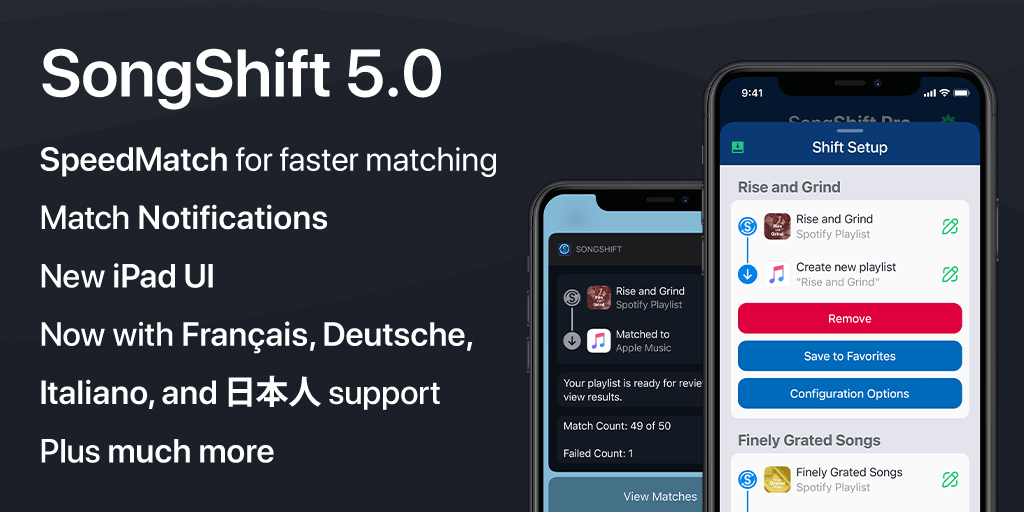 Anyone who paid for SongShift Pro previously is automatically getting upgraded to the new lifetime option. Whether a user bought Pro years ago or recently, they will retain access to all the features they know and love without paying again. We would like to thank these users for helping support our development this far.
For new users, if choosing to upgrade via a subscription, they will have the option to choose between a $4.99 per month or a $19.99 per year subscription. If they'd rather not worry about a subscription, lifetime Pro access is purchasable at $39.99.
Faster Matching
Number one on our list to do was improve the speed of our processing. With today's update, we introduce SpeedMatch, our new in the cloud processing for matches between Apple Music and Spotify. Leveraging the power of SpeedMatch, users will now be able to leave the app and be notified when their results are ready. A huge step forward for users transferring large playlists.
Improved UI
For the first time, iPad users will enjoy a beautiful new experience taking full advantage of the screen size, with support for Split View and Slide Over. Additionally, iPhone users also get a new cleaner, more refined interface with improved navigation flow.
New Shortcuts and Share Sheet Actions
SongShift is all about being able to share and transfer music as efficiently as possible. That's why we've added new Shortcuts and Share Sheet actions to help users do just that. These are super handy for scenarios like this:
Have Apple Music, but your friend keeps sharing Spotify songs links or vice versa? With our Shortcuts, you'll quickly be able to open the shared album or song link in your configured music application. How about wanting to share the link of a song on a different service? That's covered too with our "Open with SongShift" Share Sheet action. Activate it when sharing music in your favorite application to quickly get links to that media item in other services.
Shift Renaming
Although it is a simple feature, many users have requested the capability to rename Shift sessions to a name of their choice. Pro users will have the option to set a Shift name at the time of creation or later in Shift Details.
New Customization
We've supported themes for a while, but up until now, users could only choose one. Now with iOS 13 or newer, they can configure a preferred app theme for dark and light mode. Additionally, we've created some brand new dark and light color themes to show off their personality. Customization wouldn't be complete without custom icons, of course. Choose between over 20 alternate app icons ranging from a variety of styles.
Improved Performance and Experience
To make the best experience for users, we're making Auto Setup and Match Fix available to everyone. These features help users setup their Shifts quicker and help transfer only the songs they want. With iOS 13 or above, new Context Menu actions are available at users disposal to quickly change monitor status, rename, scan the latest changes, or remove a Shift.
What's Next?
Although this update took longer than expected to release, we're continually learning how to address issues better. Moving forward, we'll have a much more steady stream of incremental updates packed with more ways for users to Shift their music.
We've already got more great updates planned for this Summer, and we cannot wait to show you where we go from here.