We have just released SongShift 5.2 to the App Store. This update is filled with several new features as well as improved support for playlist imports and exports with Amazon Music.
Introducing SongShare
We are excited to announce our new service, SongShare, which allows our users to share playlists with their friends across music streaming services. Users can send playlists through SongShare by purchasing SongShift Pro or purchasing access to SongShare for $1.99. Playlists are free to recieve. Users can get started with SongShare by visiting the SongShare tab in SongShift.
Improved Support for Amazon Music
We worked with Amazon Music to provide improved support for transferring playlists in and out of their platform. This has allowed us to greatly improve the experience for our users, by providing quicker and more accurate transfers. Additionally, we have been able to fix many existing issues when using SongShift for Amazon Music transfers.
Improvements to SpeedMatch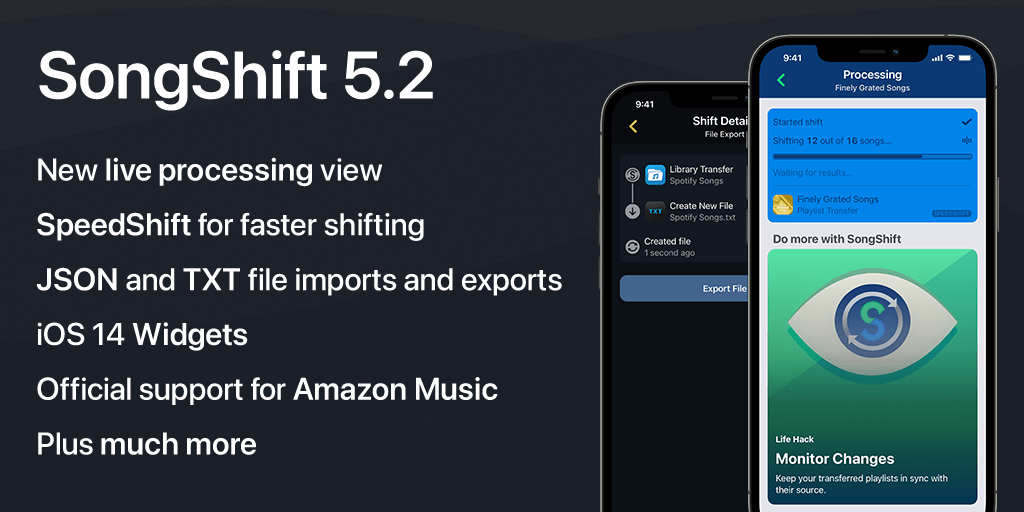 SpeedMatch, our service for quickly matching songs on Apple Music or Spotify, has been revamped in SongShift 5.2. We have created a new live processing view for when shifts are being matched, allowing users to see the progress of their matchces and shifts in real-time. Additionally, we have fixed several bugs with SpeedMatch, and improved the speed and accuracy of these transfers. SpeedMatch is available for pro users.
Introducing SpeedShift
We are excited to announce our new service, SpeedShift, which will shift songs and albums in the cloud rather than on the device. SpeedShift currently supports transfers into Apple Music and Spotify. This allows our transfers to be much quicker, and the user no longer will have to have the app open. Push notifications will be sent whenever a shift has completed. SpeedShift is available for pro users.
File Transfers
SongShift now allows users to import and export .json and .txt files containing the contents of their music library. These transfers can be completely customized like any other shift to include any songs or albums. These files can be saved to the local iOS file system. File transfers are available for pro users.
Widgets
We created a series of stunning widgets for the iOS 14 home screen. These widgets show recently played music for a music service of the users choice. It also provides quick actions to the user to either open SongShift, create a new shift, or to shift a recently played song to another music streaming service. These widgets can be configured in SongShift settings and are available for both free and pro users.